What is it?
The BLDC is a high performance alternative to your IT infrastructure located in your office.
Black Line Managed
The BLDC is owned and operated by the Black Line team of professionals, not some large corporation
Since we own the BLDC, the $$$s are much lower than traditional data centers
Your technology and data are under the watch of Black Line and professionals you have come to trust with the heart of your business
Accessibility is not an issue, we don't have layers of approval to maintain or gain access to your equipment. This is important when service is needed in a tight time frame
We have the Internet bandwidth/performance to support your needs
With work from home and remote users at an all time high, we have high speed bandwidth to support even the largest businesses
We utilize a high speed fiber backbone to provide ultrafast connectivity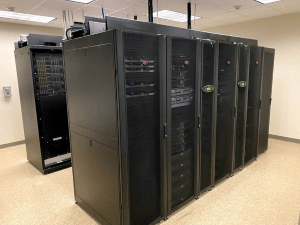 When Technology fails you, we have the redundancy to keep you ru
nning
Your IT infrastructure doesn't have the redundancy we can offer
Our Internet fully is redundant, from different providers, to keep your team running in the event of a service outage
Reliable and fault tolerant N+1 power infrastructure, including long running battery systems and a natural gas fired generator in the event of power loss
Servers generate lots of heat, we also have redundant cooling systems to keep the place frosty
Ensure only the right people are accessing your systems
Secure access to your systems and data
Key code access
24x7x365 closed circuit video surveillance system
Security breach alarms
Share This Story, Choose Your Platform!