Video by Arnav Lande. You can check out Arnav's YouTube channel here.
Dedicated to helping students reach their full potential, Black Line hosted its first ever Hackathon for high schoolers on November 17th at our Naperville office. It all started when students at Neuqua Valley High School approached us after so many places and people turned down the idea. Together we realized how rare it is for students to come across opportunities like these and we immediately knew we wanted to change that.
With over a 100 responses, we set full force into making this event a success and giving the participants a unique chance to develop lasting connections and truly embrace the impact of computer science in today's society.
So what even is a Hackathon?!
With an aim to increase the students' understanding about computer science, a Hackathon provides a platform for self-expression and creativity through technology. All the students were put into groups and were asked to pick a category (scheduling/calendar, inventory, wish list, decision making, expense tracking, educate, organize) and a target (animal shelter, charitable organization, school, local small business, your home) on the day of the event. All the groups had a choice of coding either a web or mobile app or a website. They were then ready to begin hacking!
What did the day of the event look like?
The event included a keynote speech by our CEO, Jody Jankovsky, and app/website development workshops led by our senior developer, Patrick Goode. The students' final pieces were then judged based on creativity, technical complexity, polished design, usefulness, and presentation. We were extremely impressed by the talent, teamwork, and overall positive attitudes during the event. Every single team produced some very thoughtful and interesting projects.
Once again, congratulations to our first place winners Hannah Dobos, Claire Jelagin, Pascal Adhikary, Aabha Vyas, and Elinore Eavenson – keep up the passion and hard work!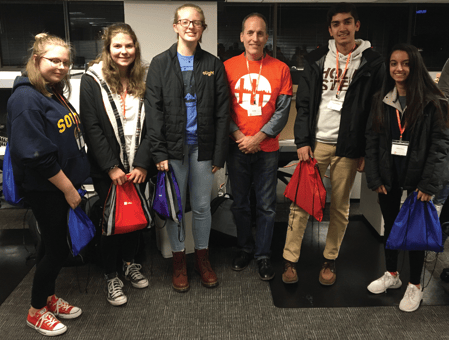 First place winners with our CEO, Jody Jankovsky. Photo by Arnav Lande.
Make sure to check out our Instagram (@BlacklineIT) and Facebook for exclusive pictures from the day of the event and for updates on future events!
A huge shoutout to our sponsors!


Share This Story, Choose Your Platform!